Rent Facilities at Historic Lions Park
Located near the southern shore of Buckeye Lake, Historic Lions Park just may be the right spot for hosting your next event. Our versatile park can host almost any kind or size event — from small meetings to large banquets, from car shows and tractor pulls to concerts and dances, our facilities may meet your needs perfectly.

Reservations / Information:
To book your wedding, receptions, corporate picnics/outings, graduation/holiday parties, meetings or other special event
click here. If you would like a walk through of our facilities, please email us at scfsecretary@yahoo.com or call us at 740-467-3639 to schedule an appointment.

Banquet Hall
Our Banquet Hall is equipped with a full service kitchen and seating for 300. From small meetings to large banquets to wedding receptions to graduation parties to family picnics. The banquet facilities can be setup and decorated to fit your event. The kitchen facilities are available to you or a caterer of your choice.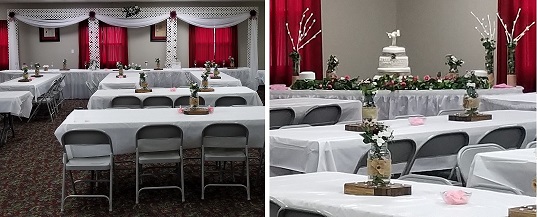 Shelter Houses, Covered Bridge, Stages
For outdoor events, we have shelter houses for family picnics and parties or utilize the covered bridge to create a unique atmosphere for your special event. The Lions Park can also be used for dances, car shows, tractor pulls, concerts, etc. (liability insurance is required for these type of events). Below is the full list of options we have available.



Rent the Facilities:
The Banquet Hall has a full service kitchen and seating for 300.
There are two shelter houses with electric service.
There is a shady grove with 142 picnic tables.
Available bleachers with seating for 400.
The entertainment pavilion has electric service and lawn area seating for 2,500 to 3,000 guests.
An outdoor concrete dance floor and bandstand with electric service.
Scenic walking trails throughout the park and open fields.
Plenty of parking and open grass exhibit areas.
And a Historic Heritage Village and Charles Holiday Covered Bridge.