Parade & Queens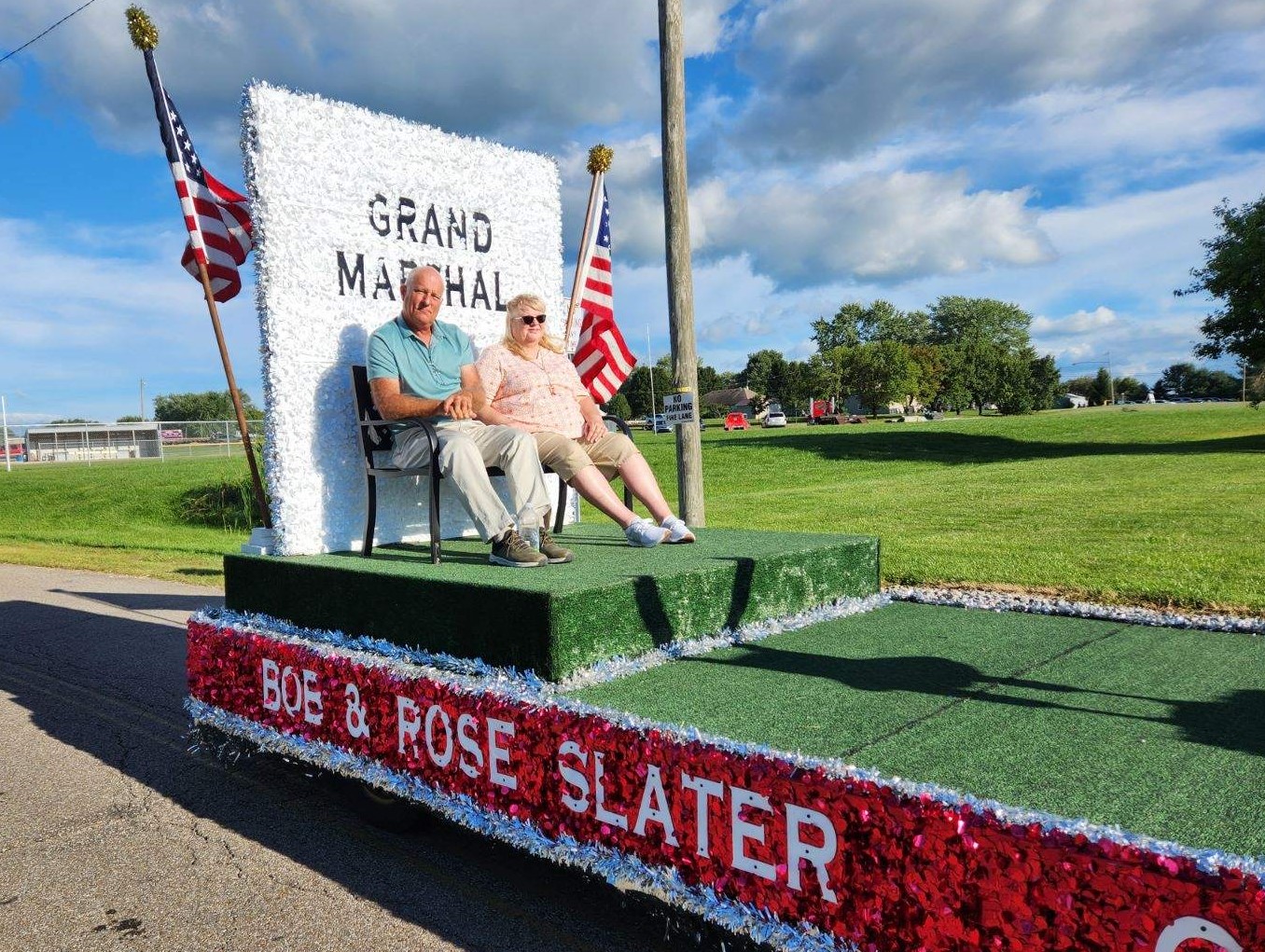 Grand Parade
Date: Wednesday, August 28, 2024
Starting Time: 6:00 p.m.
2023 Grand Marshal: Bob and Rose Slater
Units: Approximately 150
Participation: Pre-festival registration, INVITATION ONLY.
Description: Bob and Rose were selected to be honored in 2023 as Grand Marshals because of their long record of stellar volunteer involvement in the Sweet Corn Festival whether it be working in any of the multitude of athletic or academic, food or game concessions operated the high school classes, booster clubs or parent-teacher organization of the Walnut Township Local School District. They have also been active volunteers of the Boy Scouts, plus pulling floats in the Grand Parade for various community organizations of the years.

Bob & Rose can usually be found in Heritage Village during Festival Week, welcoming visitors to the Slater Gas Station & Wayside Market that was donated by the Slater Family. Almost every local historic building that has been saved and moved to Historic Lions Park was undertaken by Bob and his deceased father, Robert W. Slater. Bob and his father have installed most of the water, sewer, gas and drainage lines within the park since the 1970s and Bob is always on call for emergency situations that may pop up at any time.

Chairman's email: Parade & Queens

Queens Pagent and Banquet is
sponsored by: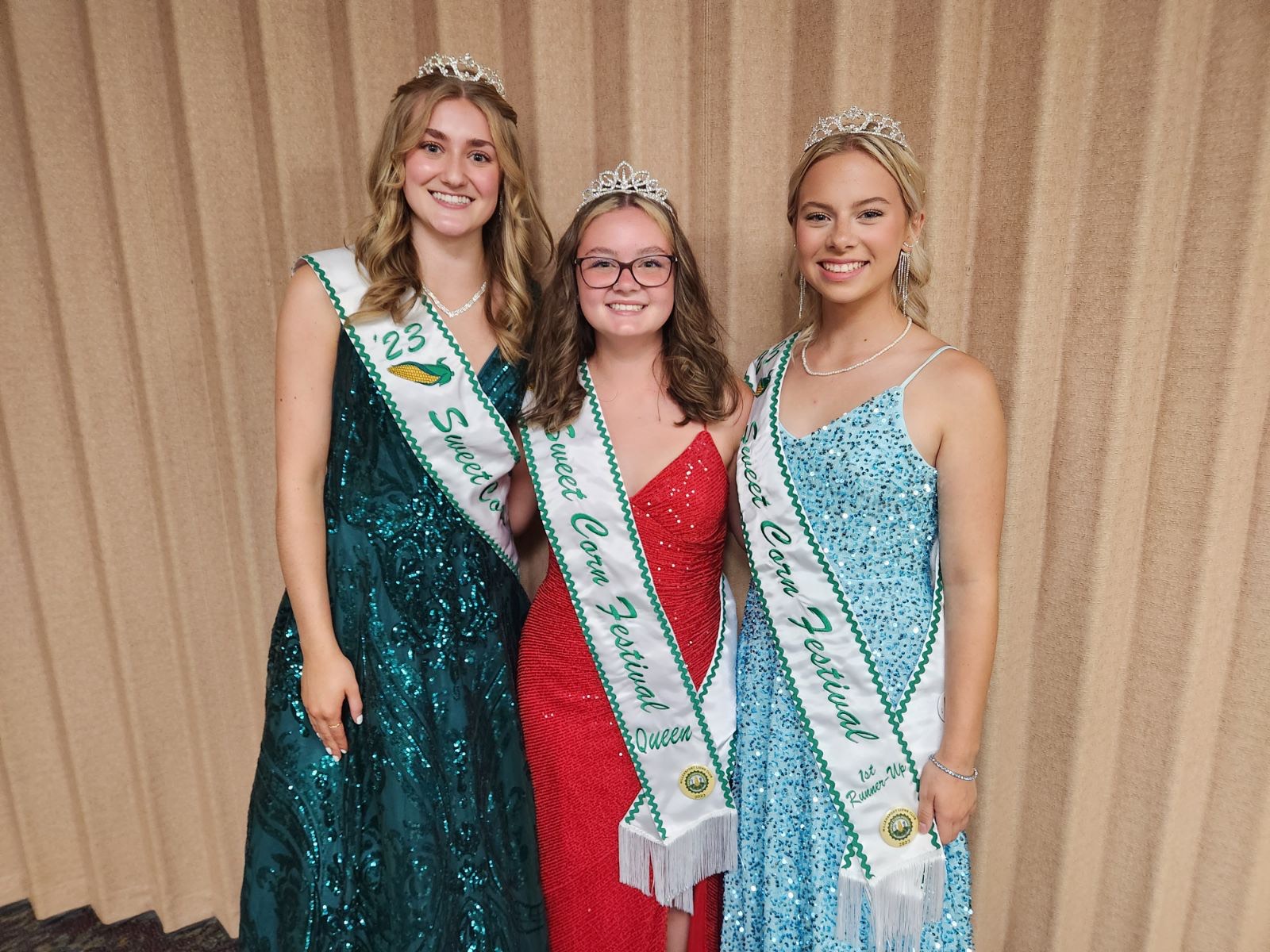 Queen and Court
2023-2024 Queen Peyton Allison Wallace – (Logan)

Peyton is the daughter of Mark and Hollie Wallace of Logan, Ohio. She attends Logan High School where she is a member National Honor Society, Chamber Singers Choir, 328 Choir, Choir Leadership Council, Tr-M Music Honor Society, Drama Department, International Thespian Society, Marching Band, Concert/Symphonic Band, Pep Band, Stadium Band, and Powerpuff Band. Peyton has volunteered for the Logan Downtown Theater Renovation Project, Artista Rock School, Church Worship Team, Little Drama Camp, Christmas Carol Event at Downtown Theater, Shop with a Cop, Logan in Bloom, and the Bowen House Summer Camp. In her free time she enjoys singing, songwriting, acting, cooking, shopping, swimming and playing with her cat "Patches." Peyton plans to attend college but is undecided about her major.

2023-2024 First Runner-Up Jocelyn Barnecut – (Fairfield Union)

Jocelyn is the daughter of Micheal and Alyssa Barnecut of Bremen, Ohio. She attends Fairfield Union High School where she is a member of the Falconettes, Assembly Singers, participates in school musicals and competitive cheerleading. She volunteers for a youth group and the food pantry. Jocelyn is a dance teacher and has a part-time job in the food industry. In her free time, she enjoys singing, cheer and dance. Jocelyn wants to get her BSN from Ohio University, then continue her education to eventually become a neonatal NP.

2023-2024 Second Runner-Up Mayci Schilling – (Millersport)

Mayci is the daughter of Buck and Lisa Schilling of Millersport, Ohio. She attends Millersport High School where she is active in the Student Council, National Honor Society, Sign Language Club, Varsity Cheer and Varsity Volleyball. She volunteers for the school's annual White Christmas project, a regular blood donor for the American Red Cross, an office aid at the high school, assisted the Board of Elections on Election Days and she enjoys singing the National Anthem at sporting events. Mayci has spent the past two summers working at a popular Buckeye Lake restaurant. In her free time, she travels, loves camping and reading and fashion. After high school, Mayci plans to attend Ohio University and major in Retail and Fashion Merchandising.

Chairman's email: paradeandqueens@sweetcornfest.com

SWEET CORN FESTIVAL Queen & Court Rules:

Takes place Thursday, August 31, 2023 at 7:30 p.m. on the Main Entertainment Pavilion. Each of the 18 area high schools select a young lady to represent them in our pageant. These young ladies participate in our Wednesday Grand Parade along with their high school band. On Thursday of our festival, they begin their path through the judging process with closed doors individual interviews beginning at 5:30 p.m. in the Lion's Club house. These interviews are conducted by 5 judges from outside the geographical area of these 18 high schools. Neither the judges nor the young ladies know who the other group is until 5:00 p.m. on Thursday of the festival. Following the closed door interview and the group walk through, the young ladies are then escorted onto the Main Entertainment Stage for public interview one at a time while continuing to be observed by the judges. following the completion of the on stage interviews, the judges retire to the Club House to tally their score sheets and determine our Queen, 1st and 2nd Runners Up.

The judging is based on 20% Activities, 15% Interview Questions, 15% Personality, 20% Speaking Ability, 15% Stage Presence, and 15% Overall Appearance.